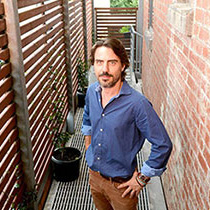 Sebastiano Ghezzi is an Architect with a broad interest in all aspects of design, from small objects to master-planning and pays a close attention to detail. After having obtained a Bachelor of Architecture degree at R.M.I.T. University in 2001, Sebastiano gained international experience over a wide range of building types in leading architectural firms before establishing SG2 design in 2004. He is registered with the Architects Registration Board of Victoria (ARBV) and is a representative for Virtual Lab software Australia.
SG2 design strive to satisfy the project brief through a collaborative process, where environmental sustainability through proper building orientation and materials selection play important roles, both morally and physically. Our objective is to 'tailor' each project to suit individual needs and desires, where the outcome often exceeds initial expectations and ultimately increases its overall value. Your ask, we deliver.
Equipped with the latest international-standard computer software, SG2 design use DCAD Vector Space and DCAD Render to conceive projects in 3D-based form. We can provide a complete architectural service, from feasibility studies, through to interior design and project management. We are able to communicate in English, Italian, or French and work closely with a network of secondary consultants including specialised bathroom, kitchen and lighting suppliers, to ensure projects are delivered in a timely and efficient manner.
SG2 design can offer the following comprehensive services for you:
FEASIBILITY/ SCHEMATIC DESIGN
Preparation of detailed project brief
Preparation of preliminary budget and program
Consultation with Authorities including local Councils
Advice on secondary consultant team required for the project
Preliminary site analysis to identity opportunities
Measure-up and preparation if existing conditions drawings
Preparation of Schematic Design drawings and/or 3D visualisations for feasibility and yield
Real-estate research for market comparables
Preliminary finishes, fixtures, materials selection and schedules for costing purposes
Meetings with quantity surveyor/builder to prepare preliminary cost estimates
Presentation to client
---
DESIGN DEVELOPMENT/ TOWN PLANNING
Development of detailed brief including updating budget and program requirements
Consultation with Authorities and/or Secondary Consultants
Further site analysis and preparation of any required existing and proposed drawings
Preparation of any necessary existing and proposed shadow diagrams
Preparation of Town Planning documents, including reports and lodgement to Council
Facilitate Planning approval
---
CONTRACT DOCUMENTATION/ INTERIOR DESIGN
Review detailed design against Town Planning approval and/or required conditions
Refine the design and incorporate further client and planning requirements
Materials and construction research
Substantial consideration of environmentally sustainable design (min. 6-star requirement)
Coordination of drawings with Secondary Consultants (Engineers, Surveyors, etc.)
Preparation of architectural Working Drawings for construction of the project
Preparation of cabinet drawings and internal elevations for kitchens and wet areas
Preparation of all necessary details for the Builder to accurately assess cost of works
Written Specification for detailed descriptions of selected project materials and schedules
Application with the Building Surveyor for Building Permit issue
Review, advise and confirmation of the construction contract to be used
---
CONTRACT ADMINISTRATION/ PROJECT MANAGEMENT
Preparation of tender documents
Pre-qualification checking the technical capacity of proposed tenderers
Inviting proposed tenderers to tender and issue documents for pricing on clients behalf
Respond to queries during the tender period
Negotiate with tenderers as required
Prepare tender recommendations
Prepare contract documentation for contract signing
Periodic site visits to observe the progress of the works against contract documentation
Prepare and issue meeting minutes
Review shop drawings
Assess and provide recommendation on progress claims and variation submissions
Provide certification for relevant contract claims
Carrying out inspections and advice during defects liability period
Post-construction services including final certification and post-occupancy evaluation
Hand over/ completion